Post by ssgndoc on Jun 30, 2017 18:21:27 GMT -6
I happened upon this used TP9V2 in a gun shop in Tacoma several months ago. I don't know it's previous round count but it looked as thought it had been shot a for a box or two and then put in a safe or otherwise largely forgotten about. It had serial number with a 15 in it indicating it was about the age of my TP9SA which I have been very satisfied with. I had wanted to try the DA/SA version of the Canik striker fired pistols to see how such an animal compares to hammer fired pistols with traditional double actions. The $290 price tag cinched the deal for me. How far wrong could I go at that price and not be able to recover most of my expense?
It accompanied me to the range on it's initial outing with a CZ SP01 and my Canik TP9SA. Both of which have proven to be tack drivers if I do my job. The trigger was something a bit unique. The double action first pull was a bit stagey and gave a unique feel as the striker spring compressed prior to the sear releasing the striker to fire. It was not a light pull, but it wasn't overly heavy either. Even tough I could feel the striker tension stacking, it did not seem to make the trigger pull less manageable. The follow-up shot in single action was on par with my TP9SA, light and crisp, with a short reset for the next follow on shot. The grip shape is identical to that of my TP9SA so the pistol pointed well and recoil was very manageable. The sights seemed well regulated and the pistol was putting rounds really close to where I aimed and any deviation seemed likely to be me getting used to the DA first pull of this pistols trigger.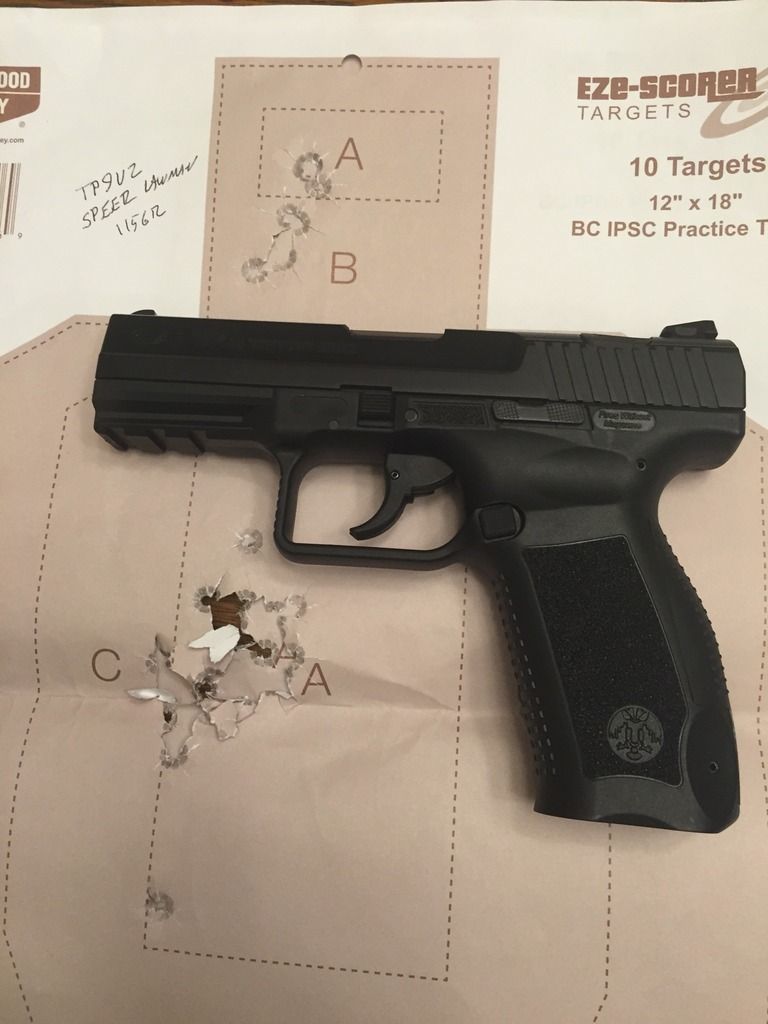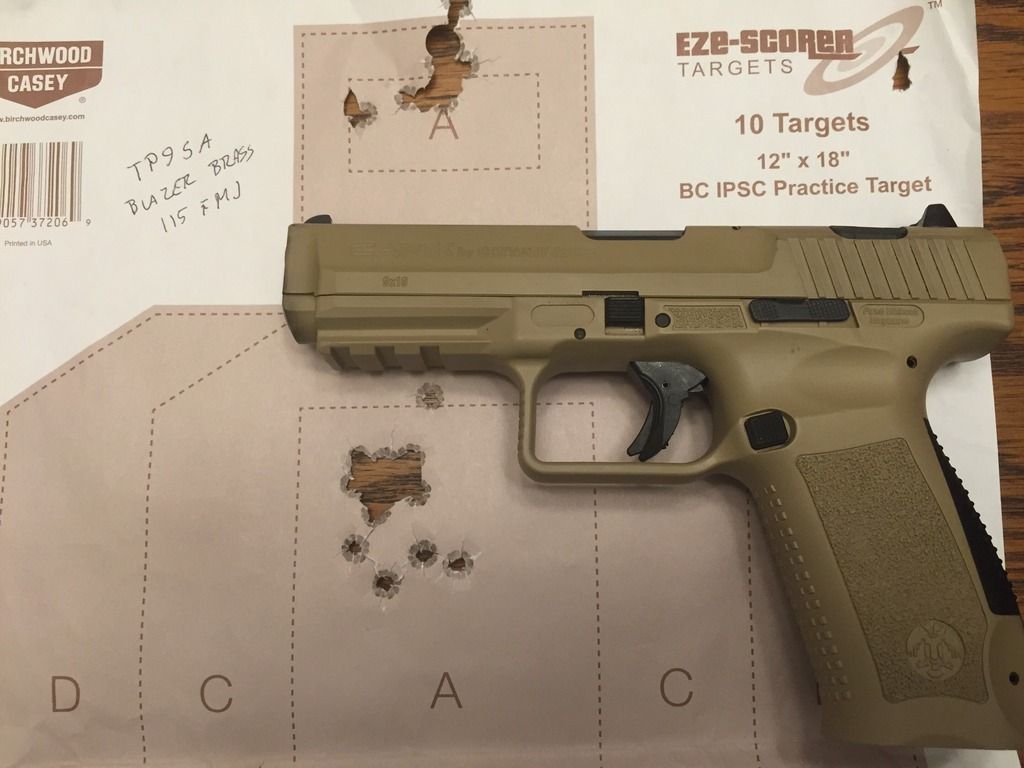 Dimensionally the pistol is the same as my TP9SA with the exception of slide and barrel length which are under a half inch shorter (about 0.37 inches actually). The grip size is the same and it takes the same 18 round magazines. The trigger/action is modeled after the Walther P99 AS (Anti-Stress) trigger system. This is a bit different from a traditional DA /SA (TDA) trigger in that it does have a double action first trigger pull followed by single action shots after that, but the big difference is that there is a third mode (that anti-stress mode) where the trigger can be pushed forward or the slide can be released from the rear which will leave the striker fully cocked but move the trigger forward. The primary reason most folks go with a TDA type action is to have a long and heavy first trigger trigger pull to ensure that any shots are really intentional. Then any subsequent shot can be fired with less travel and resistance, making follow up shots easier to perform with less movement of the pistol via the long heavy trigger pull. The third mode on the TP9V2 (or the Walther) gives all of that double action travel but with the striker staged, there is significantly less resistance and less motion imparted on the pistol as a result. The big thing that the TP9V2 does that the TP9S doesn't do, is make sense of the decocker to more people. People understand why you would have a decocker on a TDA pistol whether it has a hammer or a striker. They don't all seem to get the utility of a decocker on a single action only striker fired pistol that leaves you with a dead trigger until the slide is cycled again. No problem on the V2, just pull the trigger again, since it can stage and release the striker wiht the trigger.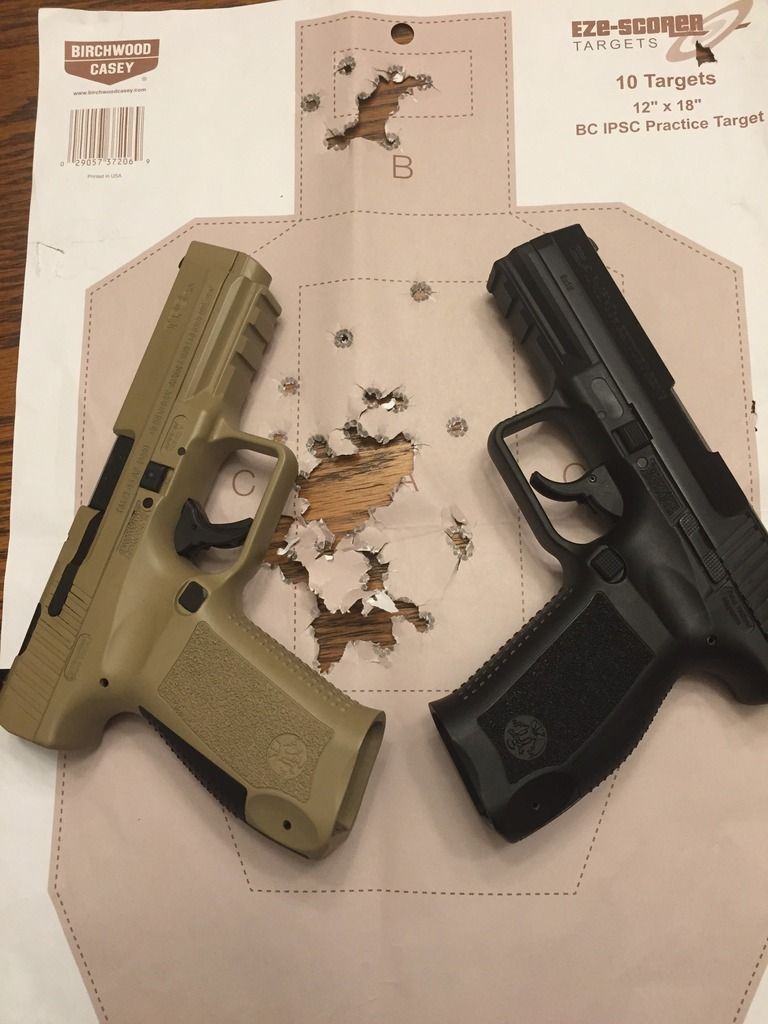 I put several hundred rounds through the V2 in pretty short order and would clean it pretty regularly. I then happened upon a different forum where it seemed commonplace for folks to put their handguns through a 2,000 round no cleaning and no lubrication, while carefully logging ammo used and any types of failures or malfunctions. This is to give an idea of sensitivity of a pistol that may be considered for carry. That forum also seems to be run and participated in by instructors and serious students of pistol craft who are likely to push a pistol through several classes or competitions, and in the course of doing so, they can rack up 2,000 round counts in a matter of weeks. I started my challenge a few months back for the TP9V2 to see where it stands. I only recently got it over the 1,000 round mark of this challenge. Guess what. No failures so far.
I've been running the TP9V2 in drills along side of my Beretta Px4 Storm which is moving to being my primary carry pistol. (I'll do a more complete review on that one in the near future, documenting how the pistol started out to where I am with it, in the form of modifications, to date.) Pushing the V2 into drills, it seems to acquit itself quite well as far as being very shootable. The slightly shorter slide and barrel length make it a bit more holster worthy in my opinion, but a TP9SF Elite sized grip frame would make it about perfect. I also like the low profile controls when it comes to this being considered as a carry piece. the flat slide release, and the flush fitting decocker add very little to the dimensions of the pistol itself and reduce potential snag points that you might find on other TDA pistols like Sig or Beretta. As far as Weight goes, it's the same weight as my M&P .40 with each coming in at 1.74 lbs empty (29.4 oz).
TP9V2 Dot Torture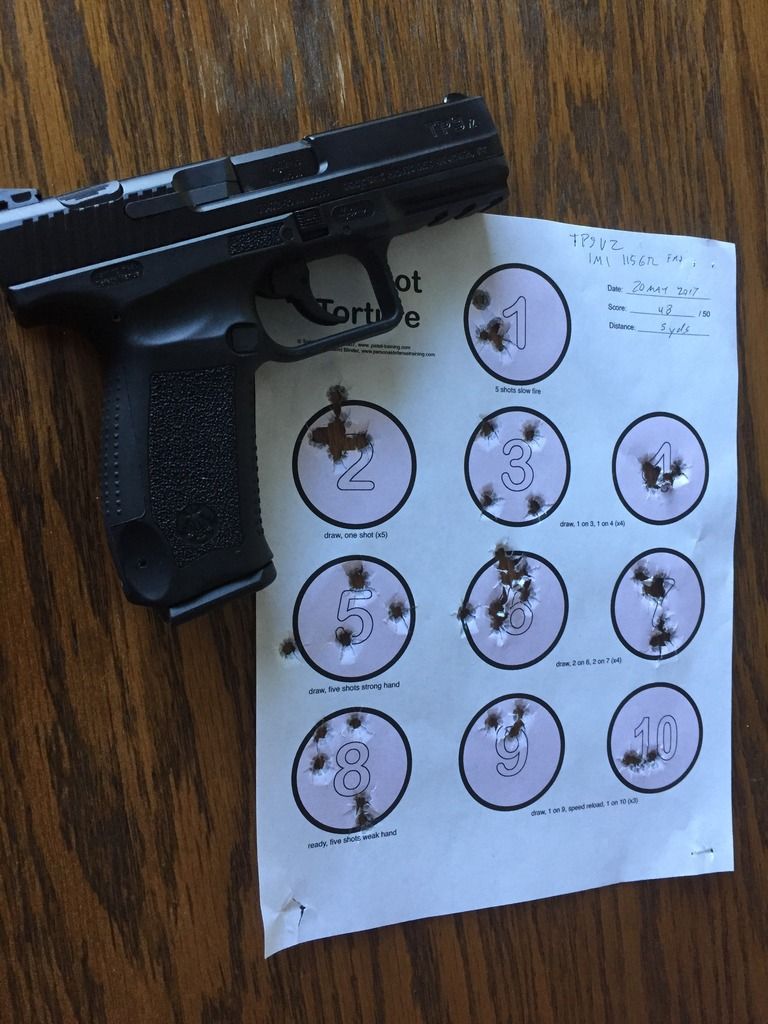 PX4 Dot Torture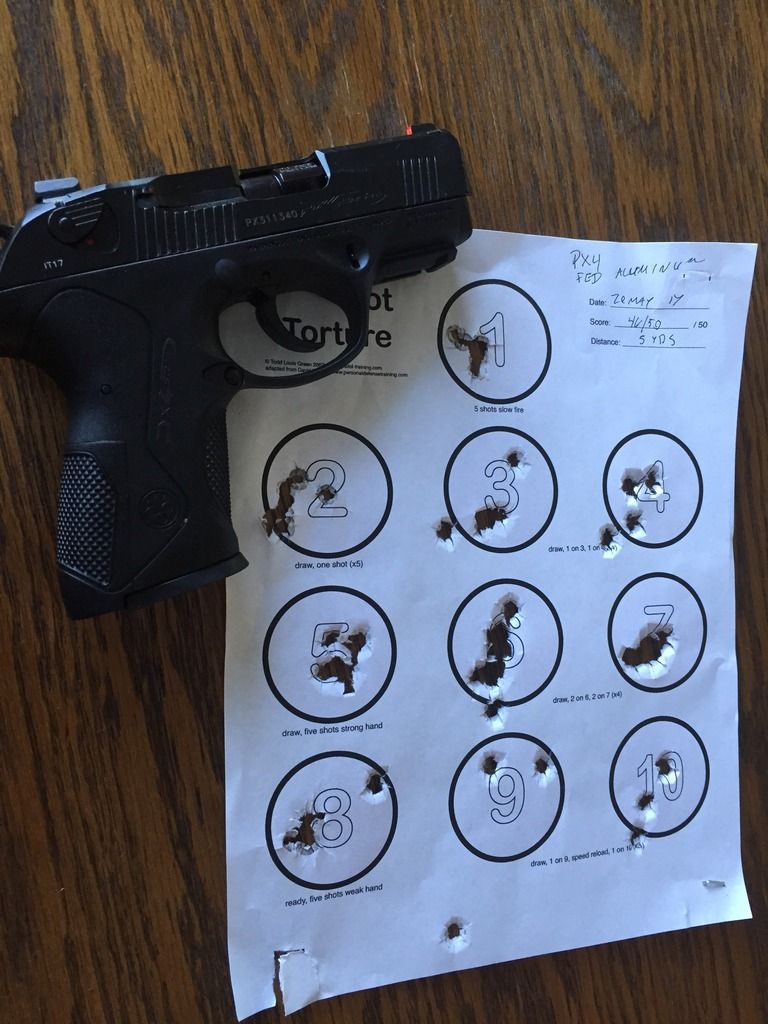 FAST drill TP9V2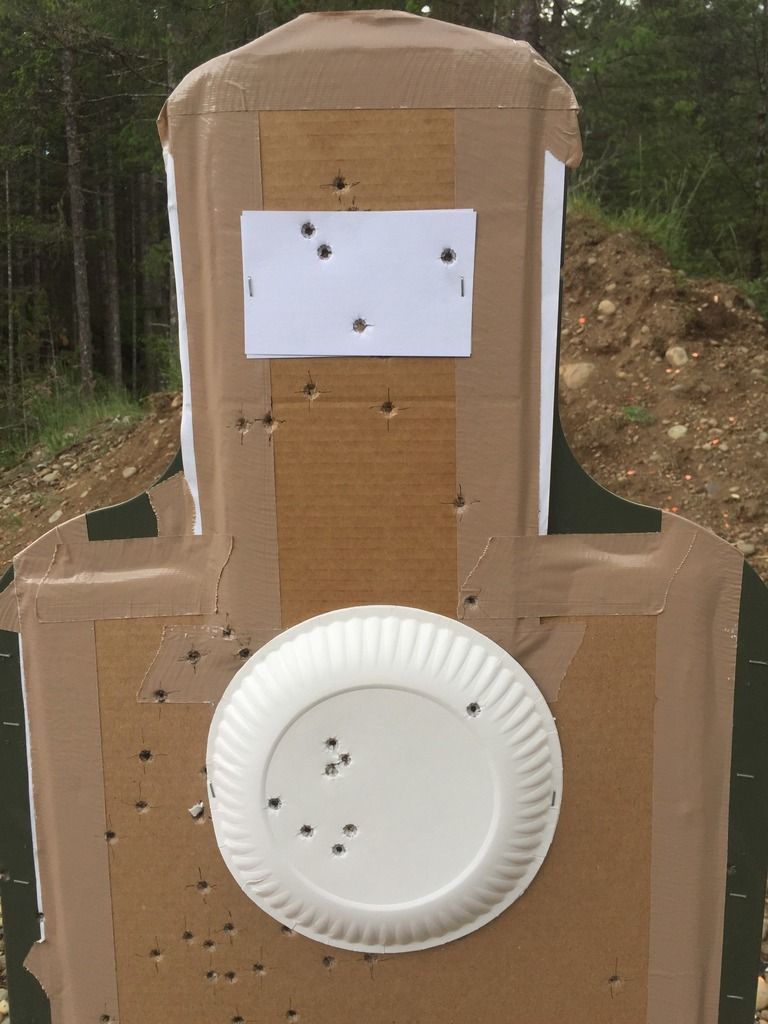 Fast drill PX4 Compact
TP9V2 in Smoky Mountain Concealment AIWB holster and mag pouch.